Kids 2018- 2019 Class Schedule
POTTERY FOR ALL AGES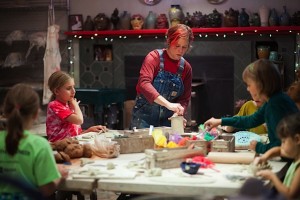 Winter Session will run for 9 weeks beginning  Jan. 8th and 9th Tue. classes end on March 12th. Wed.  classes end on March 20th. There is no class Feb. 20th because of SPS mid-winter break.
Spring Session also runs for 9 weeks beginning April 16th and 17th ending June 11th and 12th.
There are 4 great choices, please read carefully and choose the best class for your budding potter.
Teen/tween pottery with a purpose –Meets Tuesday 3:45-5:00 $235:
 This is  class offered to the older and more experienced young potters, gives them a little extra time to create and fine tune the quality of their wares. During this session they will make specific pieces to be fired in a primitive pit fire and raku fire. Students will be encouraged to keep a sketchbook with ideas.
Home School Pottery for 6-14 year olds – Meets Tuesday: 2:30-3:30 $230:
It's back, I offered this class many years ago when I had friends active in the home school community those kids are 27 now.  The idea  of this class is to give kids lots of space to explore the medium of clay,  and at the same time teach traditional technique i.e. pinch, coil, slab, wheel. Creations during the 9 week course will be fired in a primitive pitt  fire and a Japanese Raku fire (weather permitting of course).
Clay play for 6-9 year olds – Meets Wednesday 2:30-3:30 $230:
Designed for the younger potter, within the hour there will be plenty of time for imaginations to run wild at the same time maintain a strong emphasis on technique (how to sculpt and create and not have your work fall apart)  Students must be mature enough to focus and stay seated for most of the class.     
Functional and beyond 9-12 year olds – Meets Wednesday  3:45-4:45 $230:
With imaginations leading the way, students will be encouraged to think through how they design each pottery piece. What is the purpose of this creation? Can you eat or drink out of it? Can you store things in it? Is it ornamental, does it have special meaning, or who might you be making this for?  ….And has the piece been crafted with integrity? If group dynamics  prove responsible enough we will end the session with a Japanese  Raku fire (weather permitting). 
All parents will need to complete & sign a liability form prior to the 1st day of class. E-mail Faye to make sure there is space available and mail payment to Fayezart pottery 1806 NW 70th street. Seattle Wa. 98117, Or bring payment on the first day of class.